Werum Novelty Works
Phillip Werum was one of northwest Ohio's great 19th Century entrepreneurs. Philip was born in Germany in 1818 and immigrated to the United States with his parents in 1832, settling in Lancaster,Ohio. Werum later moved to Berlin in HolmesCounty, southeast of Wooster, where he engaged in the mercantile business for 25 years.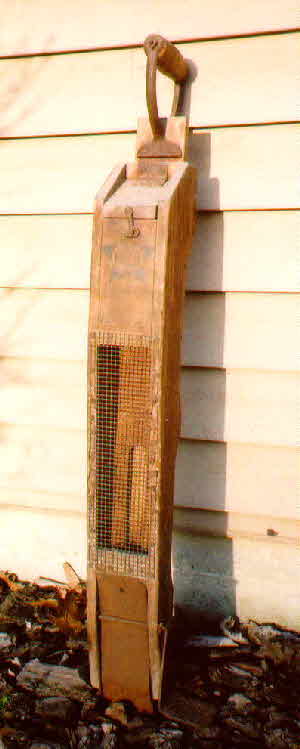 In 1843, Werum married Catherine Clouse, who was also a German native. The couple became the parents of four sons and a daughter.
In the spring of 1865, the Werum family came to Stryker, where Phillip opened a general store that sold everything from boots and shoes to glassware, fresh fish, salt, groceries and women's dress goods. He also provided a market outlet for local farmers, purchasing wheat, wool, butter and eggs.
In 1869, Mr. Werum built a flax mill on the north side of what is today East Short Street. Flax's main products, tow and lint, were processed to make canvas, linen, and rope.
In 1874, Philip and his son John converted the flax mill into a cheese factory that produced 45,000 pounds of cheese its first year, most of which was shipped to New York and Europe. Werum discontinued the business in 1876 to pursue other interests.
In 1878, Werum engaged in manufacturing "the elastic truss," with his sons John and Charles traveling to solicit orders.
From 1881-1885, Werum operated a brick factory in Stryker with a manufacturing capacity of 16,000 bricks per day.
In the mid-1880s, Phillip received patents for a hay elevator and carrier "designed to handle hay, either in loading or unloading, stacking, mowing, or transferring it from one mow or place to another," "an improved horse hayfork," a rope clamp used to bind corn and awning ropes, and a mailbag clamp. By 1889, he was manufacturing hand-operated corn planters.
In 1894, Werum and his family incorporated the Werum Novelty Company to manufacture corn planters, trunk slats, pulleys, stepladders, and other products. The business appears to have been located in the former flax mill/cheese factory building on East Short Street, and it was in business until at least 1900.
In 1901, Catherine Werum passed away, and Philip moved in with his son John in Toledo.
In 1903, the Stryker Advance newspaper reported, "A new enterprise, the Werum Disinfecting Company, manufactures "Natural-as-Life" eggs by machinery and [they] are packed six in a box to retail for 50 cents. The eggs are placed in the nest to kill lice and as a disinfectant."
In 1904, D. M. Buehrer purchased the Werum homestead on East Short Street, and converted the former factory building into a barn.
On December 31, 1909, Philip Werum died in Toledo and was buried in Stryker's OakwoodCemetery with his wife Catherine.
Werum's obituary notes, "He was a deep student and an investigator of psychology, and made a record of his investigations in a manuscript entitled, 'Investigations of Psychology.' He also wrote 'Universal Nature'."
Anyone with more information on the Werum family and their enterprises is asked to contact us at info@strykerahc.org.