Was Stryker a part of the Underground Railroad?
(Editor's Note: Professor Pete Wilhelm, United States history instructor at Northwest State Community College, regularly assigns his students to work with local history organizations on research and preservation projects as part of his coursework.
Local resident Eli Burkholder recently contacted the Stryker Area Heritage Council and offered his assistance with such a research or preservation project.
At about the same time, the SAHC received an inquiry through its website from a former Stryker resident who asked why there was no information on the website or in recorded histories about the former Rumsey home on West Curtis Street—owned for many years by Ralph and June Rupp—being a stop on the Underground Railroad. The simple response to this inquiry is that there is no documented evidence to support such a claim.
Too often, researchers encounter historical accounts asserting "facts" that lack documentation to confirm "oral traditions." Through repeated publication or other means of dissemination, such oral traditions can over time become accepted facts; once this occurs, it can be incredibly difficult to set the record straight.
On the other hand, there is some element of truth in many oral traditions. If claims that the former Rumsey/Rupp home was an Underground Railroad station can be substantiated, it would be an incredibly significant piece of our local heritage.
To initiate this investigation, Eli Burkholder interviewed Ralph Rupp, recorded Rupp's memories of the house and alterations he made to the structure, and prepared the following report.
Much work remains to document the history of the Rumsey house and the Rumsey family to determine whether an Underground Railroad station once existed there. Anyone with additional information or memories is encouraged to contact the SAHC at P. O. Box 180, Stryker, OH 43557, by telephone at 419.373.0310 or via email at info@strykerahc.org. The SAHC extends its gratitude to Eli Burkholder and Pete Wilhelm for allowing this important information to be recorded as a foundation for future research.)
It is said that the Underground Railroad got its name when a fugitive slave named Tice Davids fled from his master and swam across the Ohio River. The master, who was on his heels, saw Davids as he came to shore but then immediately lost him. "That nigger must have gone off on an underground road," said the master. The story spread and what started as the underground road eventually turned into the "Underground Railroad."
The Underground Railroad was a system that helped escaped slaves from the South get to freedom. Fugitives rode in wagons and two-horse carriages at night and usually spent their days in cellars, attics, farm buildings, thickets, and many other places. They would hide for days and sometimes weeks at a time from their former masters, hired slave hunters, and general people who were for slavery. Fines amounted up to $1,000 and six months in jail for people who aided slaves in their getaways. These pure abolitionists were very brave in their attempts to hide these slaves the best they could and to guide them on their way to freedom, while avoiding these harsh penalties for getting caught.
I find it very interesting that this extremely important part of American history can run right through this region of Ohio. Not only through Ohio but also through the little town of Stryker. It has been rumored that the house located at 603 West Curtis Street once was part of the Underground Railroad. I remember running by that house every day during cross country practice and hearing all kinds of different stories about it. It is kind of an untraditional house being that it is very big and has massive pillars in the front of it. I thought that this project would help to answer the mystery surrounding that house.
Upon doing some research at the Williams County courthouse in Bryan, I found that the house was in the Rumsey family, who had purchased it from the Wheelocks in 1876. The house stayed in the family through the generations up until 1959 when Ralph Rupp purchased it.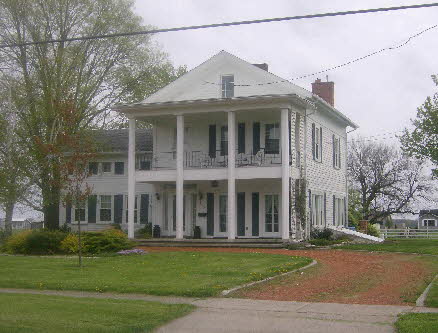 The Rumsey family did not keep the house in very good condition at all. There was brush piled up in front of the house so high that the neighbors living across the street for the past six months did not even know that there was a house there.
Only an old woman lived there and she spent most of her time on the porch with a rifle looking for rats to shoot. Mr. Rumsey was hardly ever around but was very willing and ready to sell the house.
When Mr. Rupp purchased the house, there was a servant quarters connected to the house by a kitchen. The kitchen and servants' quarters were in such bad shape that Mr. Rupp had to tear them down. He had also torn down a smokehouse and chicken house that were in the back. All in all, it took Mr. Rupp about a year of work every night after coming home from his job to get the house to where he wanted it and to a point that he and his family could move in.
As Mr. Rupp was clearing out the kitchen, he noticed something very discreet in the floor. It was a trapdoor that he had to use a hook to open. What he found underneath it was astonishing. There was a huge table down there with about 20 sawed off logs used for chairs around it. There was one light in the middle of the room and a sink as well.
I find it very odd that the previous owners failed to tell Mr. Rupp about this. I suppose it is possible that they didn't know about it because Mr. Rupp said that this door was hidden very well and he would have never noticed had he not cleared out the entire room.
Ralph was unaware of the possibility that this house was a part of the Underground Railroad. In fact, he did not know much about the Underground Railroad at all.
Not really having any understanding or thinking much about it, Mr. Rupp threw all the debris from the servant quarters down in the room. He then built what would become a garage right over the hole.
Mr. Rupp made it clear to me that he did not care much for the historical value of the house because he just wanted a place to live and raise his kids.
Mr. Rupp claimed that there were many great antiques in the house that were thrown away as if they were garbage by the previous owners' son. He stated that there was a beautiful walnut desk that weighed up to 400 pounds that was simply given away.
Mr. Rupp was able to also clear up a couple of myths about the house. First of all, it was said that there was an underground tunnel from the secret room underneath the kitchen that led out to the barn.
Mr. Rupp told me that there was no indication of that at all in the secret room. He stated that there were only some buggy sheds that led out to the barn from the house. These sheds were all above ground covered on one side so that it would have never hidden anybody. These sheds were not there, however, when he purchased the house.
The second myth about the house was that it had a hidden staircase that went from a closet upstairs down into the kitchen. Mr. Rupp assured me that this was false as well. He said that there was an open staircase from the living room to the second floor with a closet under the staircase. He knocked that closet out, however.
When I asked Mr. Rupp if he believed that his house was possibly part of the Underground Railroad, he said to me "Why yes, what else could it have been?"
I would tend to believe that as well but I don't believe that Mr. Rupp ever had any state historians or anybody visit the home that would be able to confirm that.
He said that everything would be very difficult to dig up and find what was in the hole with all the debris he put down there.
I don't believe that Mr. Rupp regrets anything about what he did. He turned what was an old rundown house into a livable one for his family and that's all he wanted. He now resides in Fairlawn Haven in Archbold.
He did say, however, that when he sold the house in 2006 to a Karen Derringer, he lost the original deed somewhere in the move. He stated that it about brought him to tears the fact that he couldn't find it.
I just find it fascinating that such a big part of national history ran through my little town of Stryker. I never really stop and think about what happened here hundreds of years ago but this project really brought that to my attention.
I also thought it was neat to talk to such a wise and kind old man in Mr. Ralph Rupp. I really now have a new respect for local history.
---Appeared in the Spring 2008 Bean Creek Chronicle