Local grocer's life left many questions
by Jean Coy Bartholomew
Elmer J. Coy, a 19th Century Stryker business owner, lived a short life, leaving a wife and daughter but few clues to his day-to-day activities or business dealings.
Elmer was born on November 7, 1863, in Springfield Township south of Stryker to John and Catharine (Krontz) Johnson Coy, his mother's fourth child and the fifth child of his father. In 1868, he was joined by a brother, Uriah C. Coy.
Little is known of Elmer's early life. A few report cards from School District #2, signed by his teacher, F. A. French, have survived. On April 3, 1884, at the age of 20, Elmer married Dorothy "Dolly" M. Robinson at the home of her parents, George and Catharine Robinson. Possibly a peaceful life was expected as a dove adorns their wedding invitation.
Elmer and Dolly became the parents of a son Almansa B. in 1886, and a daughter Bessie in 1889. It is believed that Almansa died in infancy as nothing more is found on him.
A few months following their marriage, this notice appeared in the Bryan Press newspaper, under Stryker items: "Mr. W. W. Stubbs has sold his grocery store to Elmer Coy." The West Unity Eagle also announced Coy's purchase in its December 3, 1884, issue.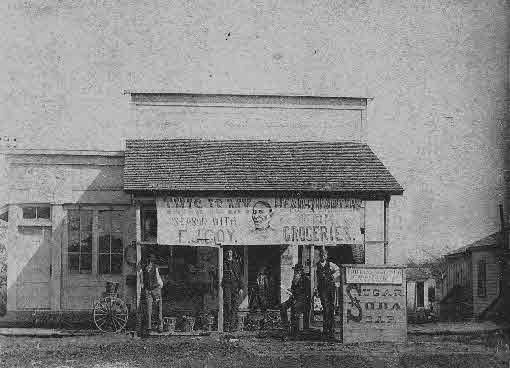 An earlier report in the February 15, 1883, Bryan Press stated, "W. W. Stubbs has purchased the old Werum stand south of the railroad and is fitting it up for his grocery room." It is likely that this is the Stryker store purchased by Elmer Coy a year and a half later. The store's exact location is a mystery, however.
In March 1887, Coy sold his Stryker grocery to F. P. Beucler. However, the grocery business continued to have a strong pull on him as the January 5, 1888, edition of the Bryan Democrat reported, "E. J. Coy has removed from Stryker to West Unity where he will open a grocery store. He hopes to be ready for business next Monday. The Unitarians will find Mr. Coy a pleasant man to do business with." An ad for Coy's new store appeared in the May 9, 1888, issue of the West Unity paper.
June 1888 found Mrs. E. J. Coy fishing at Devil's Lake with a group of West Unity citizens and the local editor hoping for the promised "mass of mud turtle."
Maybe West Unity was not to his liking as the West Unity Chief on July 3, 1889, informed its readers of another move: "E. J. Coy, former proprietor of the Yankee grocery of this place, is now in Stryker running a grocery and provision store."
The Bryan Democrat further elaborated on July 4, 1889: "Walter Pepple has sold his grocery store at Stryker to E. J. Coy and Company. The new firm proposes to make business lively."
Did Elmer feel that his business would prove more prosperous in Stryker, was his family homesick for Stryker friends and relatives, or was there another reason behind his return to Stryker?
On the occasion of Stryker's 125th birthday in 1978, the following two business cards were displayed in a local store window: "E. J. Coy, Stryker, Ohio. Families and dressmakers should use Clark's Mile-End Spool Cotton. Best six cord for machine and hand use. Thomas Russell and Co. sole agents," and "For sale by E. J. Coy, dealer staple fancy groceries, Stryker, Ohio. The Alden Fruit Vinegar a specialty."
Little else has been discovered about the Coy store or its proprietor from 1889 until his death notice appeared in the Bryan Democrat: "Elmer J. Coy was born in Springfield Township, Williams County, O., November 7, 1863, and died at Chicago, Ill., on Monday, January 30, 1899, aged 35 years, 2 months and 23 days."
Elmer's Cook County, Ill., death record lists his occupation as "laborer" and his residence as 2442 South State Street. Besides stating his cause of death as "pulmonary phitises (sic) and meningitis," the death record says that he had resided in Chicago for the past 12 years. This information does not jibe with his reported 1889 purchase of Walter Pepple's Stryker grocery store.
Elmer was buried near his father in the Boynton Cemetery southwest of Stryker. His daughter, Bessie, received no inheritance from her Grandmother Coy as the latter's will, written in 1895, stated, "My son Elmer Coy having heretofore received of me by way of advancement his full proportion of my estate is not given anything by this will." His mother's money undoubtedly financed his grocery businesses and/or his later Chicago activities.
Elmer's widow, Dolly, married again in 1900 to Edward D. Hall of Florida, Ohio. The family moved to Perrysburg, Ohio, where Mr. Hall was a dry goods merchant. In a conversation nearly 30 years ago, Grace Robinson Rodgers remembered Dolly "running a store in Lime City, Ohio, just east of Perrysburg."
A 1982 letter from Carl Peterson of Perrysburg adds the following information: "Mrs. Hall raised me since I was eight years old. My mother had died and she must of (sic) wanted me. She gave me a good home. She had a store (grocery) in Lime City. Back in 1930 the store burned down, and Mrs. Hall and I moved to Perrysburg." Mr. Peterson also related that Dolly died in 1957.
One of the few remaining pieces of evidence of Elmer J. Coy's brief life is the photo of his store accompanying this article. Was the pictured store located in Stryker or West Unity? According to the West Unity Chief, there was a Yankee store in West Unity and in this photo, the store is not named "Yankee." The picture was provided by Helen Snow Beamont of Stryker, leading one to suspect the building pictured is the Stryker store. It is possible this store occupied the north part of the building that later housed Stryker's Hub Market for many years.
Anyone with information on the store or E. J. Coy is welcome to contact Jean Coy Bartholomew at 1120 West 18th Street, Upland, CA 91784, by email at jeancb2@aol.com, or by phone at 909.985.3349. Author's Note: Thanks to Kevin Maynard for sharing some of the newspaper items cited above.
---Appeared in the Winter 2007 Bean Creek Chronicle