Stryker Area Historic Photos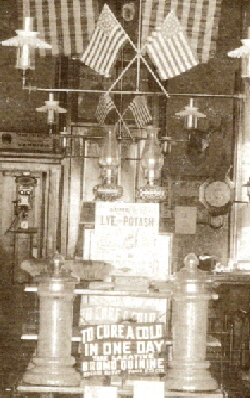 Anyone remember the Stryker Drug Store? Looks like they're advertising a cold remedy to cure a child in a day! Wouldn't we like that today? If you remember anything else about it, let us know. Thanks to Mary Lou Barnum for the photo.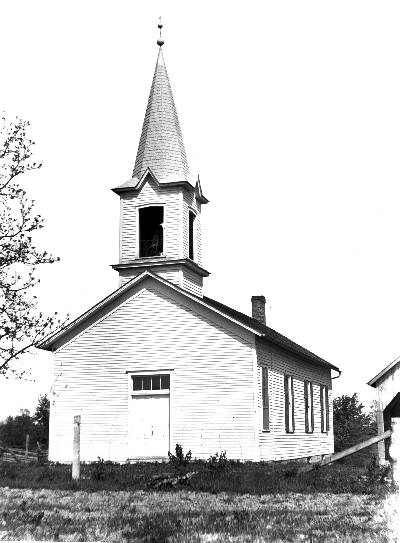 St. Jacob's Reformed Church was organized in 1867. The congregation worshipped in a one-room schoolhouse three miles northeast of Evansport until 1877 when this wooden frame church was erected on the west side of County Road 24, midway between today's Ohio 34 and U.S. 6.
On January 2, 1878, the congregation adopted the official name "German Reformed Zion Church of the German Reformed Synod of the North West of the United States of America," but it was commonly known as the Zion Reformed Church. The reason behind the name change is unknown.
Because many in the congregation were Swiss immigrants or the children of Swiss immigrants, services were conducted in Swiss German until 1901, when English language services were introduced.
In 1898, a steeple was added to the building, and Zion's Frauenverein (Ladies Aid) furnished a bell to ring in services.
In 1927—Zion's 60th anniversary—membership stood at 112; however, like many 20th century rural churches, Zion's congregation withered away over the next two decades.
In January 1948 the remaining members elected to disband, and 26 transferred to St. John's Evangelical and Reformed Church in Archbold. The steeple was removed and Zion church was converted into a residence that still occupies the site.
This 1913 photograph was provided by the Stryker Area Heritage Council and was copied from an original owned by Eldred Buehrer of rural Stryker.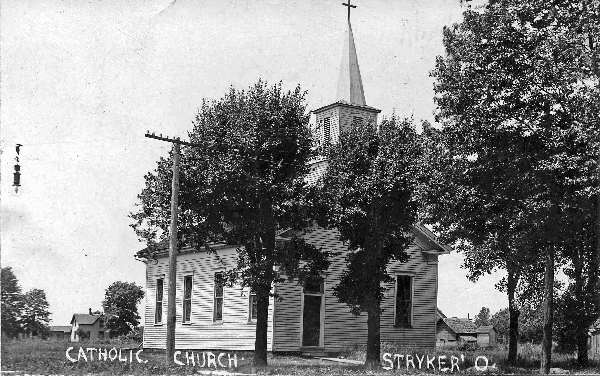 Although it is uncertain which congregation was first organized after Stryker was founded in 1853, tradition holds that St. John's Catholic Church erected the first house of worship in town.
St. John's Catholic Church was reportedly organized in November 1861 by Rev. A. J. Hoeffel of Defiance, although services are said to have been held earlier in Patrick Carens' home.
On November 10, 1861, the congregation purchased a lot at the northwest corner of Church and Center streets from John H. Sargent and Epaphras L. Barber, two of Stryker's founders.
The February 11, 1862, issue of the Williams County Leader newspaper reported: "A Catholic church is building in the flourishing town of Stryker." The church was probably completed soon afterward.
The first St. John's Catholic Church was a wooden frame, one-story rectangular building. Its entrance was on the structure's east side, facing the town's park and schoolhouse. Catholics and Protestants united to construct the church building and since there were no other houses of worship in the community, non-Catholics also reportedly attended services there.
For many years St. John's shared a priest with the Catholic missions in Wauseon, Archbold and Bryan. The priest sometimes made the trip to Stryker using a railroad handcar.
In 1956, the wooden frame building that had served St. John's for more than 90 years was moved and a brick structure constructed on the same site that was dedicated June 16, 1957. The old church building was converted into a storage building and was razed sometime around the 1980s.
The last service was held at St. John's Catholic Church on June 27, 2004. The property was purchased by the Stryker Local Schools and razed soon afterward.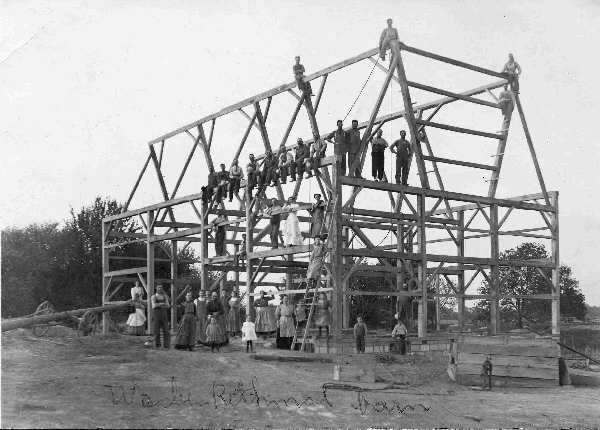 Large wooden barns have been a northwest Ohio farm staple since the 1800s, sheltering livestock, providing enclosed work areas and offering storage for hay, straw, grain and farm equipment.
A "barn raising" was often a community event in which neighbors, friends and family members of all ages gathered to construct a barn. While men worked on the barn, youngsters carried water for thirsty workers and fetched needed items, and women prepared bountiful meals for the participants.
This May 1911 photograph shows a group of 41 men, women and children at a barn raising on the Wade Rethmel farm on Rethmel Road south of Evansport. The barn, which still stands, is now owned by Don and Anita Rethmel.
As time passed, wooden barns fell into disfavor due to changes in farming and livestock management practices, larger farm equipment and less maintenance intensive building alternatives. The numerous historic barns that once dotted the local landscape continue to disappear as the years pass, severing an historical tie with the area's early agricultural methods.


If you have a historical photo you would like to share, please send it to the Stryker Area Heritage Council by clicking here.