Lockport 175th Celebration
Welcome to the page devoted to the activities and events of the celebration of the 175th birthday of the village of Lockport.
Watch for stories of interest on upcoming plans for the commemoration and tidbits of the past about the village of Lockport.
Got something you want to share? Feel free to drop us a line. Just click here.
New Lockport brochure tells past history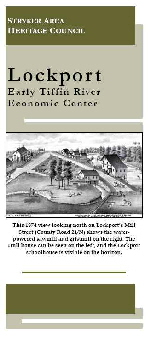 A new brochure developed by the Stryker Area Heritage Council details the early history of the village of Lockport.
Area historians Kevin Maynard and Richard Cooley combined their talents to produce the new informational piece. As the community of Lockport prepares to celebrate its 175th birthday later this year, the production of the brochure is most timely.
Presently, the Lockport Terquasquicentennial Committee is meeting the first Thursday of each month at the Lockport Mennonite Church at the intersection of Williams County Roads 21/N and I.25 northeast of Stryker, across from the covered bridge. The committee is planning events to commemorate Lockport's 175th birthday.
Anyone with an interest in Lockport area history/genealogy is welcome to attend the meetings.
The SAHC website has created this new webpage to hold interesting pieces of the Lockport 175th celebration, and the brochure is the first item. To open a copy of the brochure, click on the cover picture displayed here.