SAHC Seeking Items for Depot Museum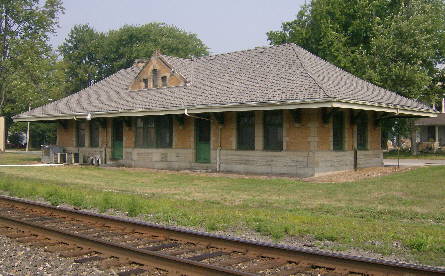 The groundwork to establish a community museum in the historic Stryker depot has been laid, and the Stryker Area Heritage Council invites area residents to bring items they may be willing to donate or loan for display to the depot on January 29 for evaluation.
Founded in February 2006, one of the SAHC's goals was creation of a local history museum in the former New York Central Railroad passenger station at 203 North Depot Street owned by the Village of Stryker.
The group charted a careful, systematic approach toward this objective. In 2006, the Heritage Council Board adopted a Collections Management Policy to guide the acquisition, loan and de-accessioning of museum items. This policy also established a Collections Committee to evaluate items for display and to advise the Board on collections matters.
In 2007, representatives of the SAHC, Village of Stryker, and Stryker Area Chamber of Commerce visited the Wauseon depot to learn details on how a neighboring community successfully established a museum in a similar railroad station.
In 2008—after months of investigation by SAHC and village representatives—a five-year lease agreement was executed authorizing the Heritage Council to develop and operate a museum in the Stryker passenger depot.
In 2009, the SAHC engaged the Ohio Historical Society to help draft a museum strategic plan that included identifying needed depot renovations and repairs, care of museum collections, developing exhibits, and financing. A number of necessary building maintenance items have since been addressed, including grading and drainage improvements, chimney repairs, and refinishing the structure's hardwood floors.
With the necessary foundation in place, the SAHC is now prepared to begin building a collection of local artifacts to display in its museum. To kick off this effort, the SAHC invites area residents to bring items they may be willing to donate or loan to the depot for evaluation on Saturday, January 29, from 10 a.m. to 2 p.m.
"We're seeking items from the Evansport, Lockport and Stryker areas that help illustrate the region's history and genealogy, including artifacts related to education, religion, local government, agriculture, business and industry, transportation and notable residents," said Fred Grisier, SAHC Collections Committee chair.
"Each item's provenance or history should link it to our area," Grisier continued. "It's helpful to jot down a brief history of the item or any known information. Photographs of an ancestor with the item definitely add to its provenance.
"Due to limited space at the depot, we will unfortunately have to be very selective as to what items we can effectively display and care for," Grisier said.
"Even if you're not interested in donating or loaning artifacts, we're still interested in seeing what historic items are out there and discussing their role in our local history," stated SAHC President Rose Burkholder, who will operate a scanning station during the January 29 event.
"Residents can bring vintage photographs and have them scanned onto compact disks free of charge to preserve them or to share with others," Burkholder said.
For additional information, check the SAHC website at www.strykerahc.org, call 419.445.3242, or email info@ strykerahc.org.
Did you see our display at the Williams County Fair?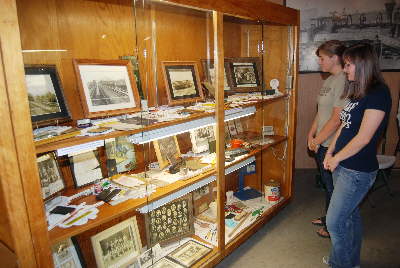 Stryker High School Seniors Olivia Jaggers (left) and Ali Justice look over the Stryker Area Heritage Council display that was at this year's Williams County Fair.
The display was in the Gillette Building, in a section reserved for antiques and collectibles.
Several cases were filled with photos, advertising keepsakes and other memorabilia about the Stryker area, including an original Stryker Beez's Hi Speed baseball uniform!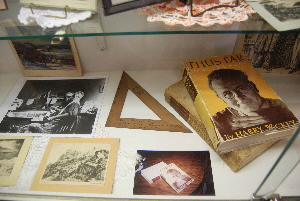 Helen Bell gave the group a number of items to display that either belonged to Harry Wickey or were about him. The photo to the right shows Harry Wickey's book and some photos and prints of the Stryker native's art work.
Below you will see Olivia and Ali resting along the wall with a giant photo of "The General," the locomotive stolen by Andrews Raiders including William Knight from Stryker. There was also a vintage map of Stryker, a table full of SAHC historical brochures and membership brochures And that baseball uniform we were telling you about!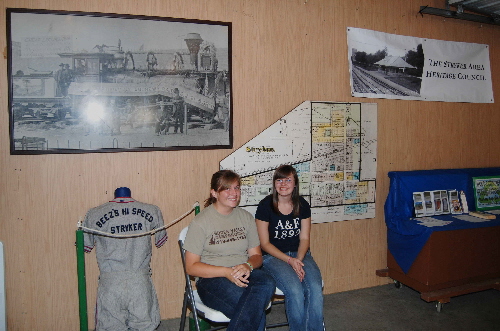 Many thanks to Sue and Ben Buehrer, who did most of the work putting the display together, any of the members who took time to man the display at the fair, and anyone else who helped to make the display such a big and interesting one!

Photos from the work day at the depot

Rebecca Miller organized a group of 7 home educated students and another mom to help at the depot work day. Pictured here as they moved a load of donated bricks onto a wagon are, from left to right in the back row, Cody Hankins, Devin Whitlock, Mrs. Carma Hankins and Emily Hankins, on the front is Ezra Miller. Passing the bricks up from the piles on the ground are Stephen Miller, Lydia Hankins and Clarissa Whitlock. Rebecca Miller took the picture.

Fun and camaraderie were definitely part of their morning work as this group helped get the Stryker Area Heritage Council workday off to a good start. After re-piling the bricks and digging up all the old mulch for the afternoon "crew" to put in a truck, the group took a moment to pose for posterity. After all they were helping to "make history".


This shows how the crew of young people in the morning had raked the mulch away from the building, preparing for the afternoon crews.

Jason Baltosser hauled the bricks away fromt he building once they were loaded on the trailer.

Jason dumps some dirt along the east side of the depot while Sue Buehrer and other crew members wait to smooth it out.

Buchman Tells Tragic Story of Ohio Indian Removal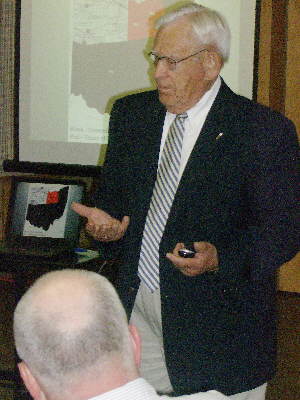 Northwest Ohio was once home to significant numbers of Native Americans including bands of Potawatomi, Wyandotte, Shawnee, Seneca and Ottawa. These tribes peacefully coexisted with the area's earliest white settlers before they abruptly disappeared.
What happened to them?
The sobering answer is detailed in the recently published book, "A Sorrowful Journey," by noted area educator and historian Randy Buchman. Buchman shared the painful story of the forced removal of northwest Ohio's Native Americans during a special October 23 presentation sponsored by the Stryker Area Heritage Council.
About 70 people listened as Buchman recounted how the Native Americans' forced relocation as a result of the Indian Removal Act of 1830 is largely an untold and tragic part of our heritage. More than a nearly forgotten page in area history, it is the heartbreaking story of a people and their culture transplanted by government force. Uprooted and fighting for survival, the Native Americans lost many aspects of their culture and identity, a legacy they still struggle with today.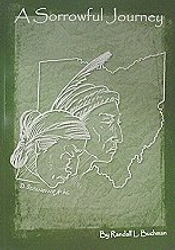 "A Sorrowful Journey" details removal of the Shawnee, Seneca, and Ottawa from Ohio in the 1830s and is based on the recently discovered journal of John Shelby. Shelby was an assistant conductor of these tribes as they made their way on foot along their own "trail of tears" across four states to lands west of the Mississippi River. Shelby accompanied these tribes as they made their way on foot along their "trail of tears" to lands west of the Mississippi River. Suffering from hunger and exposure, nearly one-third died on the three-month journey including many children, who were quickly buried along the route.
Buchman's presentation was expanded by PowerPoint reproductions of Shelby's journal and maps.
Randy Buchman is Professor Emeritus of History at Defiance College. For the past several years he has been a special assistant to Defiance College, working in the area of community relations. He also currently serves as historian for the City of Defiance. Many of his history articles have been published in journals such as Ohio Archaeologist, American Antiquity and Ohio History. He serves on the editorial board of Ohio History and is the author of "Historic Indians," "Woods Journal," and "The Confluence, the Story of Fort Defiance."
The program was part of an ongoing series by the Stryker Area Heritage Council designed to promote and preserve our rich local heritage.
SAHC member Bill Priest interviewed Professor Buchman about the book and his research into it on TV-26 for their "All Around Defiance County" program. The interview was in three parts. To see Part 1 of the interview, click here. To see the second part of the interview, click here. And to see the conclusion of the interview, click here. Our thanks to TV-26 for allowing us to post this all on the SAHC website!
Notorious murders featured in September 20 program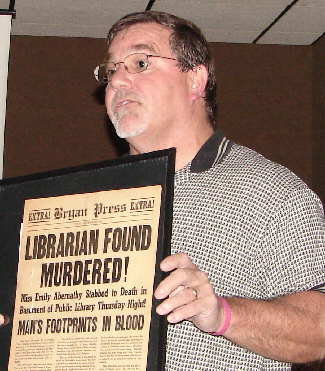 Local historian Mark Kelly recalled details of some of Williams County's most noteworthy homicides during a Saturday September 20 presentation sponsored by the Stryker Area Heritage Council. (If you would like to see an interview done by TV-26 about the program, click here. Our thanks to Ken Richer, Producer of the "All Around Williams County" program for the video segment!)
Speaking to an audience at the Stryker American Legion Hall, Kelly began his presentation by sharing that most people ask him how he got interested in tracking down stories about local murders. He credited his 7th grade teacher with steering him to the Hardy Boys mystery books. He got hooked on the stories, and read as many of the more than 100 stories as he could get his hands on.
In high school Kelly moved on to Agatha Christie mysteries and in college he received a collection of Sherlock Holmes stories from his family. It seemed like destiny.
"I've always been a mystery fan," Mr. Kelly said. So, one day he was sitting in a restaurant with his friends and asked them what part of local history interested them most. "My friends had questions about the 1946 murder of the Bryan librarian and I said I would look it up."
"It just took off from there," he says. He began to document other murders in the county, and as people heard about his interest, they began sharing leads for crimes they had heard about.
Since beginning his research in 1995, Kelly has documented 55 local murders, the first occurring 161 years ago in 1847.
The first murder that took place in Williams County was of a five-year-old boy, David Schamp, near West Unity. Kelly said the murderer was Andrew Tyler, a man who traveled from town to town making money by telling fortunes or whatever he could do to raise some funds. Tyler, noticing the boy's family had more means than others, hatched a plan to kidnap the boy. Enlisting the aid of an accomplice who was easily manipulated, the boy was kidnapped and killed.
Tyler pretended that he knew how to find the boy while leading volunteers from around the area on futile searches for the boy. Still, Kelly said the family gave Tyler money for his efforts.
But the plan unraveled and Tyler and his accomplice were arrested for the murder and sentenced to die. Tyler became the only person publicly executed in Williams County.
Kelly said a gallows was built next to the county jail, which at the time was on the north side of the square in Bryan about where Mantel's store is today. A crowd of about 3,000 swelled into the city to see the event, but a fence had been built up around the gallows to keep the hanging private. The throng tore the fence down and used the wood to feed fires around the jail to keep warm through the night until the morning when Tyler was hung.
As he continued through other stories, Kelly gave examples of the different types of homicides he has found in his research. Some murders were committed by people out to get money or valuables from someone else, some because of marital difficulties, some due to mental impairments, and some because of unwanted pregnancies.
Mr. Kelly said he has noticed a trend in the cases he has studied. While some murders are committed by people with mental illnesses, by and large he noted, "Most local murders were committed for love or money — or the lack of love or lack of money."
Mr. Kelly is sensitive to the feelings of those involved in the cases. He began his program saying it has never been his intent to hurt the families of the victims or the perpetrators in the cases he presents. He merely reports on facts that he has gathered. That is also why, while he continues to document recent murders, he doesn't present events that have happened later than the early 1950s in his public talks. "It's too soon," he said. "There might still be some of the people involved around."
The program was part of a SAHC series designed to promote the area's rich historical and cultural heritage. The program was held in the Stryker American Legion, whose members also hosted a breakfast for those who wished to eat.
Genealogy Basics Shared at November 3 Workshop
Genealogical novices attending the Stryker Area Heritage Council's November 3 "Beginning Genealogy" workshop received practical introductory training in researching their family histories and left the session well armed with materials to immediately begin the process.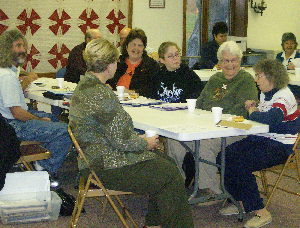 The workshop, cosponsored by the Defiance County Genealogical Society, was held at the Evansport United Methodist Church and attracted 21 participants. Attendees received packets filled with valuable resources to get them started, including research guides, forms to organize and document data such as wills, land transfers, military, school and cemetery records; five-generation charts; a glossary of genealogy terms; and a list of useful Internet resources.

The session was conducted by seasoned genealogists including Mary Williams, who provided tips on getting started; Lavina Boesling, who walked participants through various records available at county courthouses, and Cecelia Brown, who offered assistance completing the forms and one on one help with participants' questions.

Attendees were able look through helpful printed materials that can be found at local libraries including county history books, county atlases and directories, high school annuals, cemetery and census records, and church directories.

The SAHC expresses its gratitude to the Defiance County Genealogical Society for cosponsoring this event and to the Evansport United Methodist church for hosting the workshop.

The workshop is part of a continuing effort by the SAHC to promote the research, collection and preservation of local historical and genealogical information.

Forgotten Bodel Cemetery Keeps Its Long-Held Secrets During Investigation

Members of the Stryker Area Heritage Council and Williams County Genealogical Society convened at the Bodel Cemetery northwest of Stryker on October 6 to see if they could literally unearth new information at the abandoned "city of the dead."

(Click on the photo to the left to see a TV-26 program all about the cemetery investigation! Our thanks to TV-26 and Ken Richer, the producer of the program, for providing the clip!)

The impetus for the investigation was an account of the nearly-forgotten cemetery written by local historian Richard L. Cooley that appeared in the Summer 2007 issue of the SAHC's Bean Creek Chronicle. In his article, Cooley recommended "an organized archeological 'dig' to seek buried gravestones," noting that "such a project would be of great community service and also help preserve local history."

As fate would have it, the Bodel Cemetery is located on the family farm of SAHC members Kenneth and Kent Juillard, who consented to the invasion of what now serves as pastureland for their cattle.

The graveyard is located on a shady knoll on the south side of County Road H, west of County Road 19.50, next to Leatherwood Creek.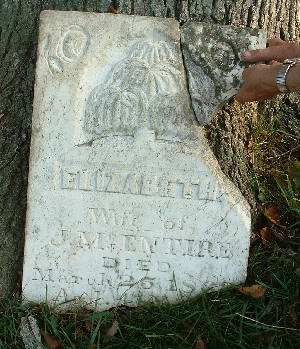 There is very little in the way of recorded information on the cemetery. Williams County deed records reveal Robert Bodel received a land patent deed for 178.29 acres in the Northwest quarter of Section 31S in Brady Township from the United States government on March 15, 1837.
Title to 175.29 acres of the land passed to Alex Bodel by administrator's deed on November 8, 1847.
On September 6, 1858, Alexander Bodel deeded the Brady Township trustees one acre, "for a place of burial for the dead." Tombstone inscriptions list death dates in the 1840s and 1850s, so it's likely the site was used for burials by local pioneers before it was officially deeded to the township for this purpose.
On April 1, 1872, Alexander Bodel sold Peter Juillard the 175-acre parcel—excepting 70 square rods occupied by the cemetery. The farm has remained in the Juillard family ever since.
T. E. Doughten provided an oral history account of the cemetery in the Williams County Genealogical Society's 1993 Brady Township cemetery records book. Doughten noted, "Almost all of the graves are unmarked today, but my late grandmother, Mrs. Sheldon Garfield Doughten (nee Ella Eliza Hamet 1878-1980), who grew up on the Hamet farm just down the road from the cemetery, has told me many times that there were (are) between 75 and 100 people buried there, most of the graves being marked with just wooden crosses."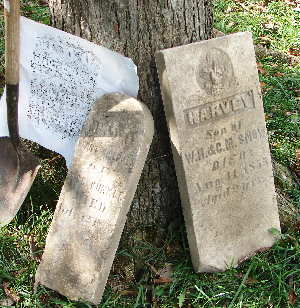 When Mr. Doughten and Kermit Hillard visited the Bodel cemetery (probably in the 1960s), they recorded two small gravestones marked "Snow children;" a marker for Samuel Snow, who died March 4, 1847; a stone for Elizabeth (Warren) McEntire, who died March 25, 1863; and two infant children of J. and C. Kunkle, who passed away on July 12, 1855.
When late historian Paul Van Gundy visited the cemetery in 1974, only the tombstone of Elizabeth McEntire remained. The other markers that once graced the cemetery were removed by unknown persons at unknown times for unknown reasons.
To assist with the investigation, Kent Juillard marked off the cemetery in approximately 20-foot square areas using lime.
About 15 volunteers gathered at the cemetery on Saturday morning, October 6, equipped with tile probes, shovels, cameras and notebooks.
Upon arrival, a quick survey revealed the headstone of Elizabeth McEntire, wife of J. M. McEntire—who died March 25, 1863, at the age of 41—lying broken and scattered in three pieces. This stone was pieced together on the ground, photographed and inscription information recorded.
Participants systematically worked their way through the cemetery grids, probing for buried tombstones; however, none were discovered during the investigation.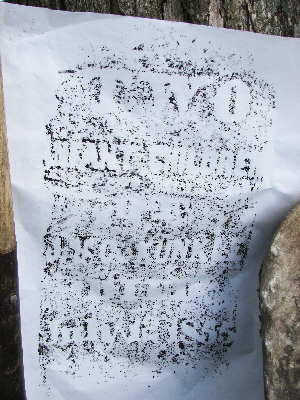 Two additional stones previously removed from the cemetery (Two infant children of J. and C. Kunkle, who died July 12, 1855; and Harvey Snow, two-year-old son of W. H. and C. M. Snow, who died August 11, 1855) and stored at the Juillard residence, were returned to the cemetery, photographed and inscription information recorded.
Bill Priest recorded interviews with 92-year-old Kenneth Juillard and Kent Juillard to preserve their memories of the cemetery.
A lingering question is why the Bodel Cemetery has been abandoned for both additional burials and the regular maintenance afforded other Brady Township cemeteries.
The SAHC in interested in setting and preserving the remaining stones in the cemetery in some manner. Kent Juillard plans to contact the Brady Township trustees for their input on a possible project.
The SAHC extends its gratitude to the Village of Stryker and Stryker Welding for use of tile probes, to all of the volunteers who assisted with the investigation and a special thanks to Kenneth and Kent Juillard for allowing the investigation to be conducted.