Annual Meeting features fascinating look at Williams Co. Regiment in the Civil War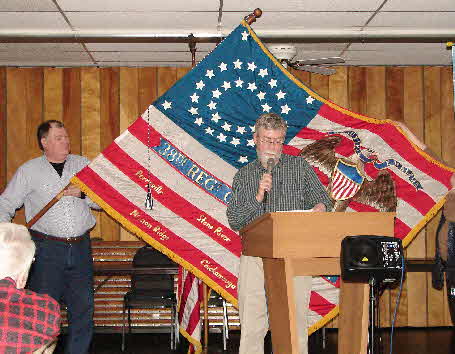 Richard Cooley and Don Allison delivered a fascinating look at the part men from Williams County played in the Civil War during the Annual Meeting of the Stryker Area Heritage Council on Jan. 12, 2012.
More than 900 men enlisted in the 38th OVI over only a period of several weeks, responding to the nation's call for soldiers for the war between the states. The majority of the members of the 38th OVI were from Williams County, while volunteers for its 10 companies also came from Defiance, Paulding and Fulton counties.
Look for the upcoming story about the annual meeting to be posted soon.
The meeting also featured the election of 3 new trustees. Our congratulations to Rose Burkholder, Terry Perkins and Anna Marie Sprow for your election to the board of trustees.
SAHC President Rose Burkholder reviewed the events of the past year. They included:
Inviting people to bring items in for loan or donation for display at the depot.
Rick Wytick refurbishing the display case that came from the school and the loan of display cases from the Williams County Historical Society.
Opening of the Heritage Center at the depot during the Alumni weekend.
Organizing the Summerfest Parade (complete with sunshine!).
Don Allison gave talk about the beginning the of Civil War movement in Williams County titled "War Fever."
Also opened the Heritage Center during Summerfest.
Work day at Heritage Center.
Helped Lockport celebrate 175th anniversary with presentations, and historic driving tour.
DVD of Evansport's driving tour during their 175th anniversary was released.
Wooden replica of the 1900 depot announced that it will be released.
Continuing efforts to get a complete set of Stryker High School yearbooks at the library.
Continuing efforts to scan photos.
And a host of new events planned for 2012.
Watch for an update on all of those events!