Heritage Council annual meeting covers canals and new museum
Members and guests at the Stryker Area Heritage Council's Sixth Annual General Membership Meeting on November 11 enjoyed a fascinating look at the Miami and Erie Canal and heard about the Council's plans to open a local historical museum in 2011.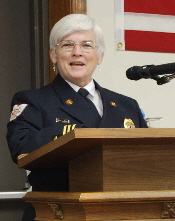 In honor of Evansport's 175th birthday and the Tiffin Township Fire Department's 70th anniversary, the meeting was held at the Evansport United Methodist Church. Assistant Fire Chief Ron Rethmel (shown above right) welcomed the group to Evansport and Rev. Becky Ploughe (shown left), pastor of the Evansport and Pulaski United Methodist Churches and who also serves as the Chaplain of the Tiffin Township Fire Department, gave an opening prayer.
SAHC President Rose Burkholder (at left below) recounted many of the group's accomplishments over the past year including an Evansport historic sites tour, a program on area Underground Railroad involvement, and coordination of the Stryker Summerfest parade.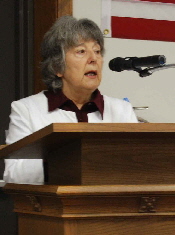 In addition, the SAHC helped organize Evansport's 175th anniversary celebration—including placement of an Ohio Historical Marker recognizing the community's rich heritage—issued wooden replicas of the Stryker 1904 School, and published a guidebook on researching Williams County Civil War veterans.
Burkholder noted that the Council created a Facebook page, continued its effort to complete a set of Stryker High School Panthian yearbooks at the Stryker library, and hosted sessions to scan and preserve historic area photographs.
One of SAHC's significant 2010 achievements was refinishing the historic Stryker depot's wooden floor as part of the group's plan to open a museum featuring items of historical significance from the Stryker, Evansport and Lockport areas.
Volunteers removed carpet, staples and subflooring, and through generous donations from the Eichler family and Stryker Village Council, the depot's wooden floor was restored to its former glory.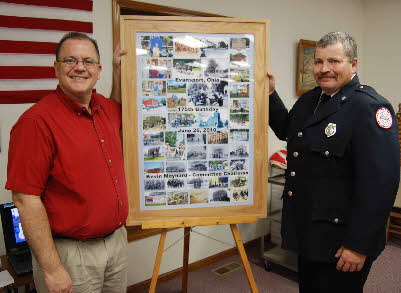 On January 26, 2011, area residents are invited to bring historical items they are interested in lending or donating to the depot for evaluation. The group hopes to create displays using these items and open a museum in 2011.
Fire Chief Jamie Wonders presented Evansport Terquasquicentennial Committee Chairman Kevin Maynard (both pictured right) with a framed collage of vintage and modern Evansport photographs on behalf of the Tiffin Township Fire Department and the community.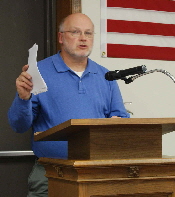 On behalf of the Board's Development Committee, Terry Perkins (at left) presented the slate of names for the three Trustee positions that were available. Members selected Helen Bell and Jack Hancock to succeed retiring SAHC Board members Fred Grisier and Phil Short, and Trustee Bill Priest was reelected to a three-year term. Trustees Fred Grisier and Phil Short chose not to seek another term. Everyone at the Stryker Area Heritage Council appreciates their contributions to the organization.
Keynote speaker Andy Hite of the Ohio Historical Society shared the history of Ohio's canal system (see story below).
Stryker Area Heritage Council hears of history of canals
"It's been called the ditch that brought the world to the wilderness," said Andy Hite of the Ohio Historical Society as he recounted the importance of the canals in Ohio to members and guests of the Stryker Area Heritage Council during their sixth annual membership meeting.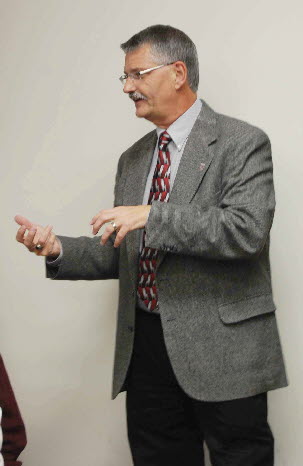 The keynote speaker for the gathering said the canals brought more rapid and inexpensive transportation to Ohio's frontier where early roads were a challenge at best.
"Ohio was interested in helping its farmers get their goods to market," Hite told the group. Enabling legislation was adopted in 1825, and on July 4, 1825, ground was broken in Newark for the Ohio and Erie Canal.
Hite, site manager of the Johnston Farm and Indian Agency, Piqua—which features an operating canal boat on a restored section of the Miami and Erie Canal—said there were a number of proposed routes across the Buckeye State; however, most were eliminated due to lack of adequate water supply, a key requirement for canal operation.
Ohio's two primary canals were the Ohio and Erie Canal that ran from Portsmouth to Cleveland, and the Miami and Erie Canal that connected Cincinnati and Toledo. The Miami and Erie Canal ran through Defiance and helped open northwest Ohio to settlement.
The canal's construction was a Herculean task accomplished by approximately 3,000 laborers—mostly German and Irish immigrants in addition to local farmers—using picks, shovels and wheelbarrows.
Many workers lost their lives during the 20 years it took to construct 1,000 miles of Ohio's canals.
"It was a dangerous job," Hite noted. "It is said one Irishman died for each mile of canal constructed." Many perished as a result of cholera, malaria or dysentery.
Hite said the canals were designed to be 40 feet wide and four feet deep. However, at its northern end, the canal was up to 80 feet wide.
The locks, which were 90 feet long and 15 feet wide, were made of the materials most abundant. Locks on the eastern side of the state were constructed with sandstone, while the locks on the western route were made of limestone or wood.
The first boats on the canal hauled freight, but before long the boats hauled both cargo and passengers. Most boats, he said, were 70 feet long and 14 feet wide, and 70 or 80 people could ride in a boat.
Traveling by canal boat wasn't cheap for passengers. It cost 10¢ or 12¢ a mile and there were extra charges if someone stayed on the boat overnight, for instance. There was a charge per mile per hundred weight for goods to be shipped by canal boat.
Canal boats were limited to a top speed of four miles per hour. "That's how fast the world traveled then," Mr. Hite said.
Canal boats typically weighed 80 tons and carried up to 16 tons of cargo. If the heavy boats exceeded four miles-per-hour, the resulting wake eroded the canal's banks.
There were maintenance crews that were constantly keeping the canals in operation. Locks that were damaged need to be repaired, blowouts of the bank would need to be shored up and sometimes the canal would need to be dredged.
The golden years of Ohio's canal system were 1845 to 1850. In 1850 canal boats and railroads handled the same freight volume. Railroads, which provided even more rapid and inexpensive transportation of goods and passengers, soon eclipsed the canals.
Speculation existed that the Tiffin River might become a canal feeder. Evansport and Lockport, along with ghost towns Williamsport and Southport, were platted next to the river between 1835 and 1850 with the "port" suffix in their names reflecting the hope of Bean Creek becoming a transportation thoroughfare.
But it wasn't to be. According to Hite, "The state ran out of money." There was no further expansion and the anticipated Tiffin River canal boom failed to materialize.
From 1860 to 1870, Ohio leased the canals to private industry. But they ended up in disrepair, so the state took them back, fixed them up and some of the areas were still profitable into the 20th century.
It wasn't a bad economy or competition that finally spelled the end of Ohio's canals; rather, Mother Nature in the form of the great 1913 flood destroyed much of state's canal infrastructure, which was never rebuilt.