SAHC has much to celebrate at Fourth General Meeting
The Stryker Area Heritage Council conducted its Fourth Annual General Membership Meeting on November 25, 2008 at the Stryker American Legion Hall with 49 members and guests in attendance.
President Terry Perkins called the meeting to order and then introduced Stryker Village Council Member Erik Short. After welcoming those in attendance, Mr. Short said,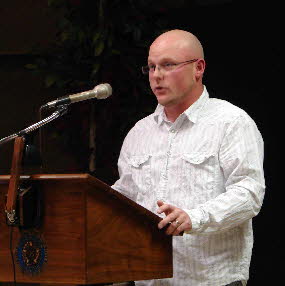 "Our community has many positive things to celebrate this year, including completion of a beautiful new junior high and high school facility, continuing development of the Knight's Landing recreation area on the Tiffin River north of town, and execution of a lease with the Stryker Area Heritage Council to develop a museum in the former New York Central Railroad passenger depot, a structure listed on the National Register of Historic Places."
"Without an understanding of how far we have come," Mr. Short continued, "as well as the hard work and dedication that it took to get us here, we can't fully appreciate all of the many wonderful blessings we enjoy today. The Stryker Area Heritage Council has done a remarkable job of providing us with this perspective through its publications, website, activities and scholarly lectures by experts in their various fields."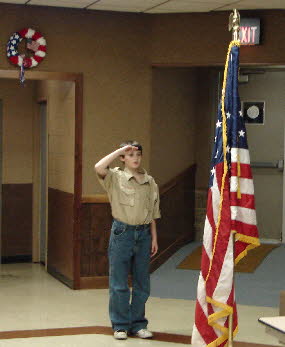 "We salute the fine work of the Stryker Area Heritage Council's board of trustees and members, and encourage you to support the organization's work by joining or renewing your membership and by becoming involved in the Heritage Council's activities.Your community is what you make of it, and when like-minded people unite for a common good, there's nothing we can't accomplish." Mr. Short concluded.
SAHC Board Member Bill Priest offered the invocation, followed by presentation of the United States flag by Stryker Troop 79 Boy Scouts of America, who led the group in the Pledge of Allegiance. President Perkins presented the minutes of the Third Annual General Membership Meeting held on November 1, 2007, for consideration, which were approved by the members in attendance.
Board Development Committee member Phil Short presented the following list of candidates to serve on the SAHC's Board of Trustees from 2009 through 2011: Kent Juillard, Kevin Maynard and Terry Perkins, and also called for nominations from the floor. With no further nominations, the proposed slate of trustees was approved by acclamation.
Treasurer Sue Buehrer presented the SAHC's annual financial report and shared highlights of the last year's operations with the members in attendance.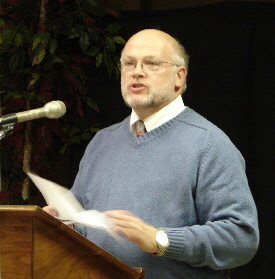 President Perkins presented an overview of the Stryker Area Heritage Council's 2008 activities and accomplishments, including the following:
• The 2007 Holiday Happenings event featured S t r y d e l / E m e n e e toys, music, a working model railroad layout and other displays at the Stryker depot.
• Sponsored Don Allison's "Hell on Belle Isle" Civil War POW book presentation in March.
• Commemorated John Stryker's 200th birthday, assisted with the parade, and hosted a local history panel discussion at the 2008 Stryker Summerfest.
• Sponsored Mark Kelly's "Williams County Murders" presentation in September.
• Sponsored publication of "Images of America: Williams County" and "Postcards of America: Williams County" in November.
• Sponsored Randy Buchman's "A Sorrowful Journey" book presentation in October.
• Issued wooden replicas of the 1922 Stryker High School.
• Executed a lease with the Village of Stryker in August to create a museum in the Stryker depot.
• Prepared three new local history brochures.
• Produced DVDs of the 2008 Stryker Summerfest local history panel.
• Added a "Historic Photo of the Month" feature to the SAHC website.
• Placed books of local historic interest in the Stryker and Bryan libraries.
Keynote speaker Kevin Maynard presented a program on his new pictorial history, "Images of America: Williams County," and autographed copies of the book for interested attendees.
Several displays of old Stryker school annuals, newspapers and memorabilia were put on by SAHC members for the enjoyment of those in attendance.
From SAHC eNews December 2008
Book displays Williams County history through photos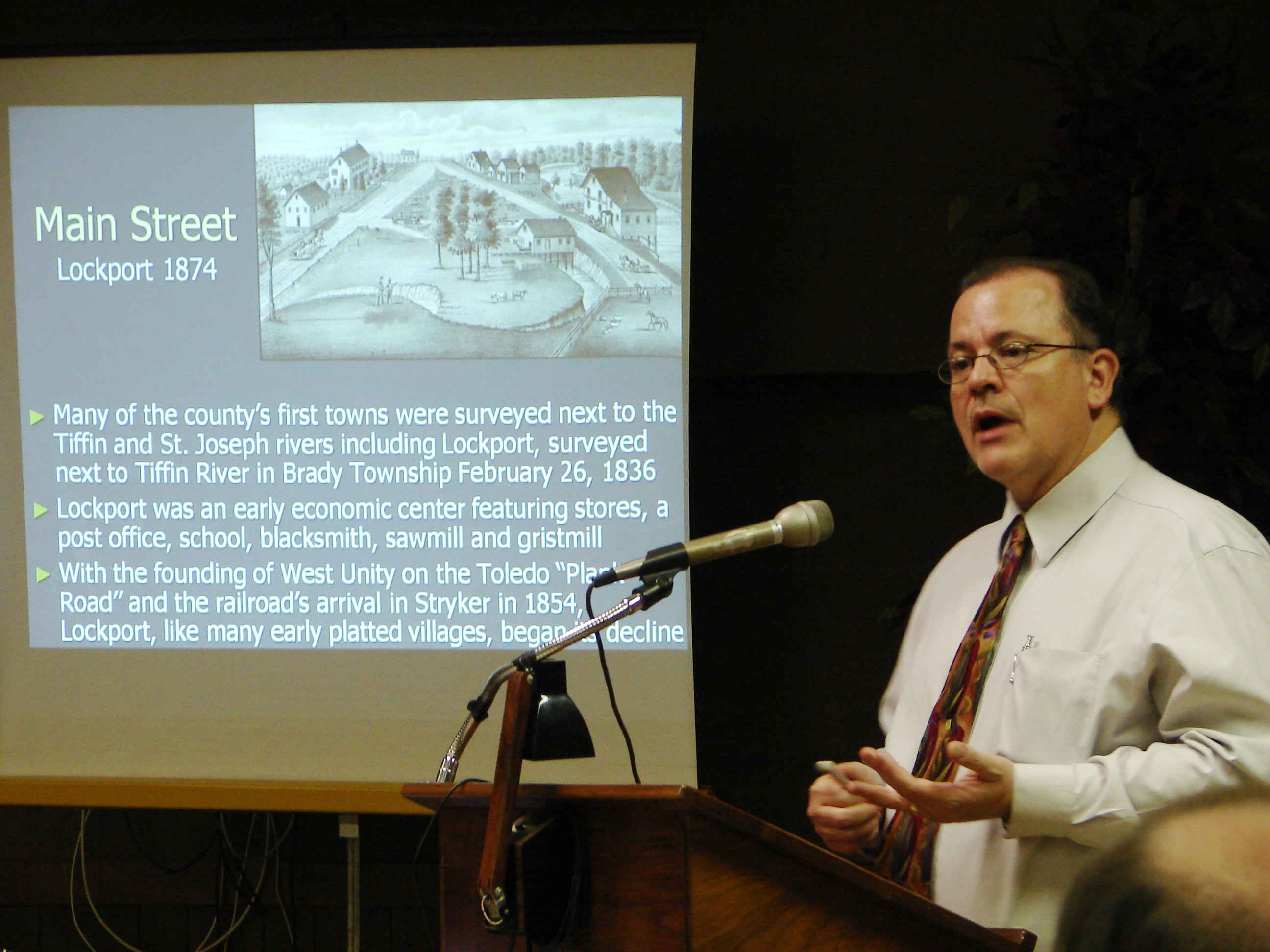 The pictorial history, "Images of America: Williams County," received an enthusiastic response to its official unveiling at the Stryker Area Heritage Council's Fourth Annual General Membership Meeting November 25. Author Kevin Maynard was the meeting's featured speaker and presented images from the publication and the stories behind the historic photographs.
Mr. Maynard explained the history captured in the representative photos from the 128-page softcover book. More than 200 vintage black and white images, many of which have never appeared in local history books, are featured in the book and arranged according to sections, Mr. Maynard said.
There is also a companion piece, "Postcards of America: Williams County," consisting of 15 photographs selected from the book, accompanied by historic information.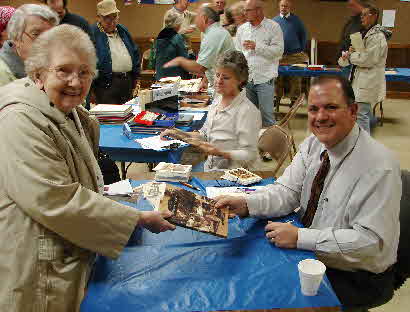 "These vintage images are mesmerizing, with a depth and detail unlike today's photographs; they serve as virtual windows to the past, transporting you to a different time and capturing the essence of what life was once like," Maynard said.
"Many people find text-heavy history books challenging. Using brief captions and detailed vintage illustrations, 'Images of America: Williams County' provides readers an overview of the area's rich heritage without a significant investment of time," he added.
Mr. Maynard is a Stryker High School graduate and holds an Associate's Degree in Electromechanical Engineering from Northwest State Community College and a Bachelor's Degree in Business Administration from The Defiance College.
For more than 20 years, he has researched, written and presented local history. Maynard is a past president of the Williams County Historical Society and the co-author of two award-winning local history books, including a teacher's guide for Williams County elementary schools. He is a past president of the Stryker Area Heritage Council and currently serves on the organization's Board of Trustees.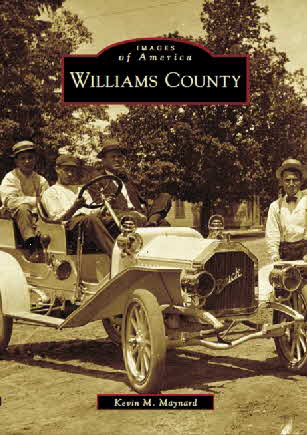 "I hope the book builds community pride, and greater interest and appreciation of the tremendous effort and sacrifice necessary to create the Williams County area we enjoy today while also encouraging others to get involved in local history research, education and preservation efforts," Maynard added.
The book is now available at the Bryan branch of the Williams County Public Library, 107 East High Street, and at the Bryan Chamber of Commerce, 138 South Lynn Street, Bryan. Additional outlets will be announced in the near future.
Copies may be purchased by mailing a check or money order, payable to the Stryker Area Heritage Council, to Kevin Maynard, 1436 Muirfield Drive, Bowling Green, OH 43402. "Images of America: Williams County is priced at $20 for SAHC members ($21.99 for non-members) plus $4 per book shipping. The accompanying "Postcards of America: Williams County" is priced at $7 for SAHC members ($7.99 for non-members) plus $2 shipping per postcard set. As you might guess, both make wonderful holiday gifts or stocking stuffers!
From SAHC eNews December 2008