SAHC Reviews 2007 Progress at Membership Meeting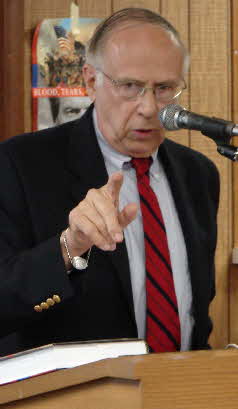 The Stryker Area Heritage Council conducted its Third Annual General Membership Meeting on November 1, 2007, at the Springfield Township Park shelter house with 50 members and guests in attendance.
Stryker Council member Joan Ruffer welcomed the group to the community. "Tonight you will hear powerful stories of how Ohioans made a difference in helping preserve our Union almost 150 years ago during the great conflict that nearly tore our nation in two," she said.
"You will also hear how local people continue to make a difference today by working together through the Stryker Area Heritage Council."
Ms. Ruffer encouraged attendees to support the SAHC with their memberships and involvement in its activities.
Following the invocation by Bill Priest, Troop 79 Boy Scouts of America presented the U. S. flag and led the group in the Pledge of Allegiance.
Terry Perkins of the Board Development Committee presented a slate of candidates to serve on the Stryker Area Heritage Council Board of Trustees from 2008‐2010. Fred Grisier, Bill Priest and Phil Short were elected by the members in attendance.
Treasurer Sue Buehrer presented the annual financial report showing a beginning balance on November 16, 2006, of $4,260.35, revenues of $4,424.00, and expenses of $3,117.61, leaving an ending balance as of November 1, 2007, of $5,566.74.
Mr. Maynard presented an overview of the Stryker Area Heritage Council's 2007 activities and accomplishments, which included educational programs, living history demonstrations, displays of items of local historical significance, the Company Singers' performance at the Stryker Summerfest, and investigation of the Bodel Cemetery.
Maynard noted that the SAHC received 501 (c)(3) tax‐exempt designation from the IRS in 2007, making contributions to the SAHC tax deductible.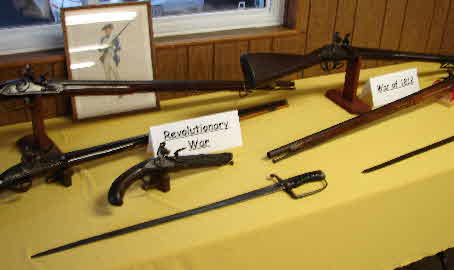 The SAHC established a local history/genealogy research center at the Stryker Public Library this year, placing books, paper historical files and a computer with CD drive there for local patrons' use.
Featured speaker Dr. James Bissland, author of "Blood, Tears and Glory: How Ohioans Won the Civil War," presented evidence showing Ohioans deserve much greater credit for their pivotal role in the Northern Civil War victory.
Dr. Bissland also challenged the SAHC to showcase the accomplishments of a local regiment during the upcoming Civil War sesquicentennial.
Following the meeting, Dr. Bissland answered questions and autographed books.
Attendees enjoyed displays of military items and photographs from the Revolutionary War to the present, courtesy of Fred Grisier, Russ Opdycke, the Stryker American Legion, Vernon Sloan, Jane Anderson and others.
A special highlight was the World War I uniform and pistol that belonged to nationally recognized artist Harry Wickey, a Stryker native, arranged by Helen Bell.
Thanks to all who helped make the meeting a successful community event.
---Appeared in the November 2007 SAHC eNews