Summerfest 2008 a big success!!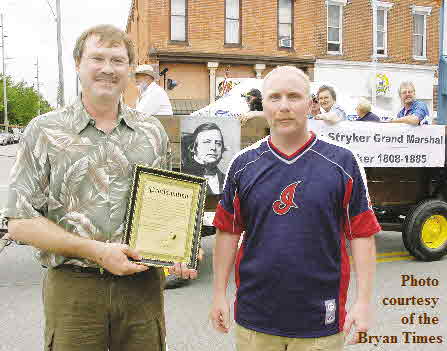 There was plenty of fun and reminiscing going on this year for the annual Stryker Summerfest. During the celebration, the citizens of Stryker honored John Stryker, a man who helped to give the village birth and for whom the town is named.
At the beginning of the parade on Saturday, June 7, village officials recognized the 200th birthday of the man who brought the railroad to Williams County and Stryker, which gave birth to the village. (To learn about John Stryker, visit our Virtual Museum by clicking here.)
Stryker Mayor Larry Davis (pictured above on right) made it official by proclaiming June 7 to be "John Stryker Day" in the village. Charles Stryker (pictured on the left), a relative of John Stryker, was named Grand Marshall of the parade and accepted the proclamation on behalf of his family. He thanked the people for their hospitality and graciousness.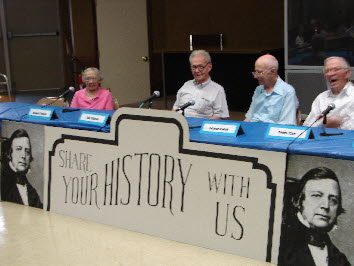 The Stryker Area Heritage Council helped to organize the parade this year with the Stryker Area Chamber of Commerce, who oversees the Summerfest. Sue Buehrer did a terrific job of heading things up and caring for the many details with a host of other helpers.
The Stryker Area Heritage Council also sponsored a float in the parade. Under the theme of "Share Your History with Us," the float featured people representing the rich farm heritage, railroading, early settlers and Civil War involvement that the area has had.
Following the parade, SAHC spons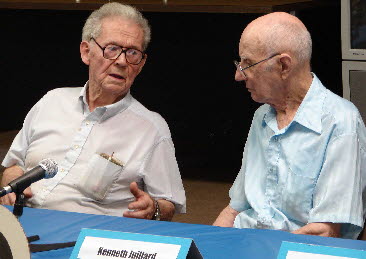 ored a delightful historical discussion at the Stryker American Legion Hall. Long-time community members Margaret Boynton , Louis Seigneur, Kenneth Juillard, Vernon Sloan, Fred Grisier and Bob Clark provided many memories of interesting and often amusing stories of the history of the community and the people who have been part of the area.
SAHC Trustee Kevin Maynard moderated the program, asking questions and soon found that he didn't have to prod too hard to get the panel to give their take on the events they have seen and heard.
SAHC has DVD copies of the program available for sale.